Year 1, Trial 1
Date: June 2013
Trial Length: 4 days, 45-75 minute classes
Number of Students: 23
Grade Level: 3rd Grade
School: Mattahunt School, Boston Public School
About the School: Inner-city school with students of predominantly African American, Latino and Carribean backgrounds.
The class was part of the Routines project, led by Russell, Schifter and Bastable, and was thus familiar with the process of using representations to prove generalizations about arithmetic operations. They had also had considerable experience using arrays to visualize multiplication and division problems. The first three days the students primarily practiced using the array creation and cutting tools and the animation tools. The fourth day they worked on two proofs that required them to coordinate using all of the tools they had learned about in the previous three days. The student work discussed below is from the fourth day.
Problem 1
How can you prove that 3 X 4 = 6 X 2?
In order to solve this problem, students had to create either a 3 X 4 array or a 6 X 2 array, cut it in half and re-arrange the halves to create the other array, recording the transition from one shape to the other in an animation. The proof of the equality of the two expressions is inherent in the fact that, while the shape of the array has changed, there are still the same number of units in the representation. Examples of student responses are below. AL's animation, shown over three stages from beginning to end, in Figures 1a-c and Video 1, is typical.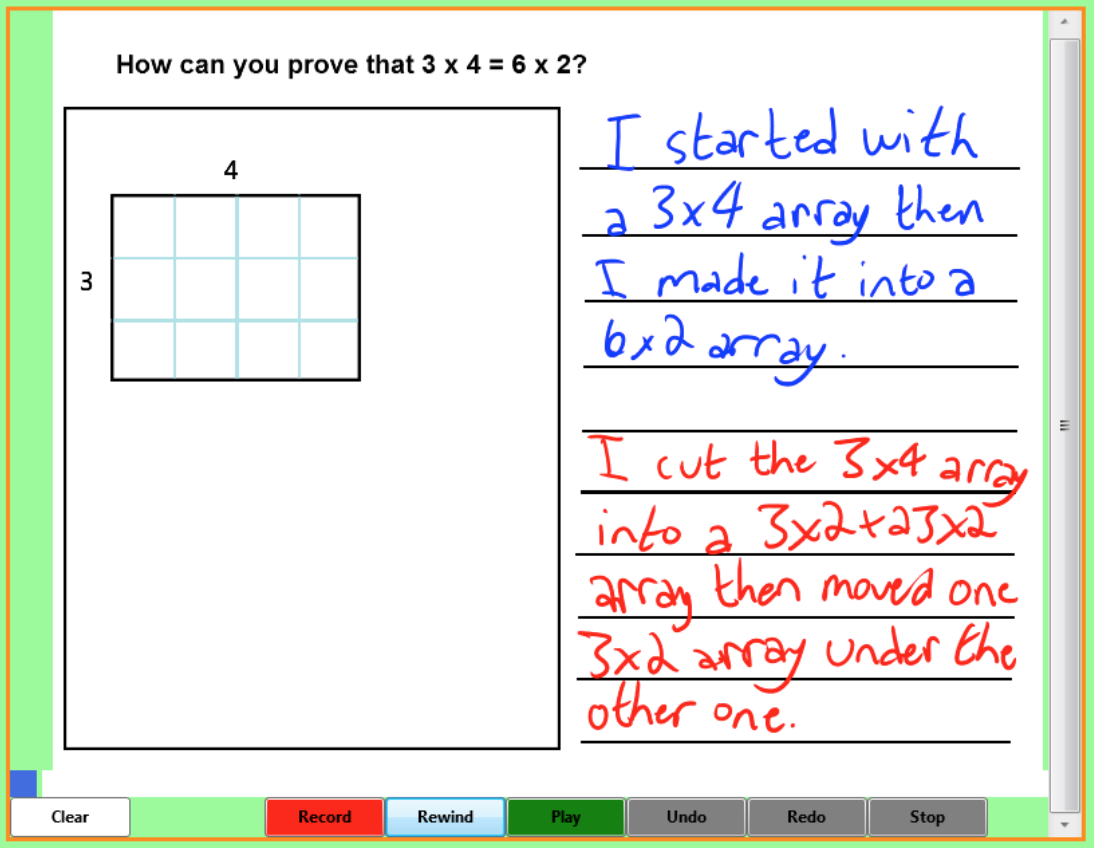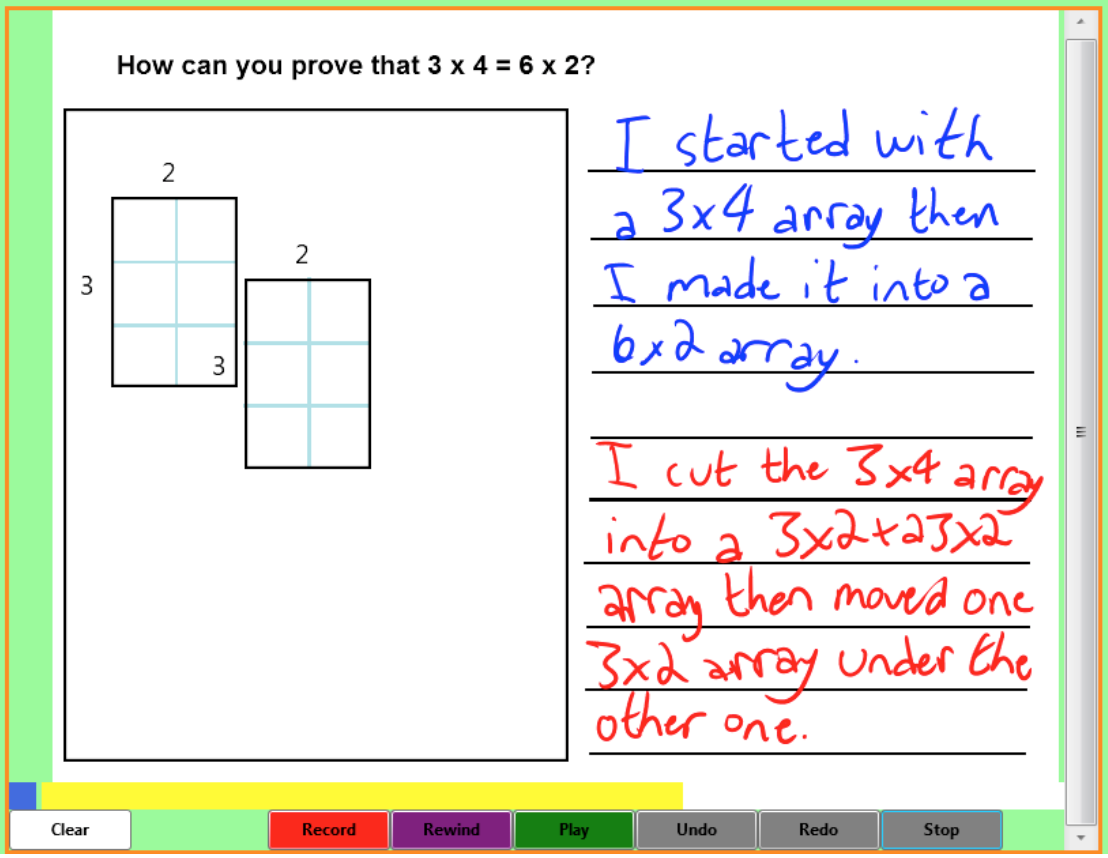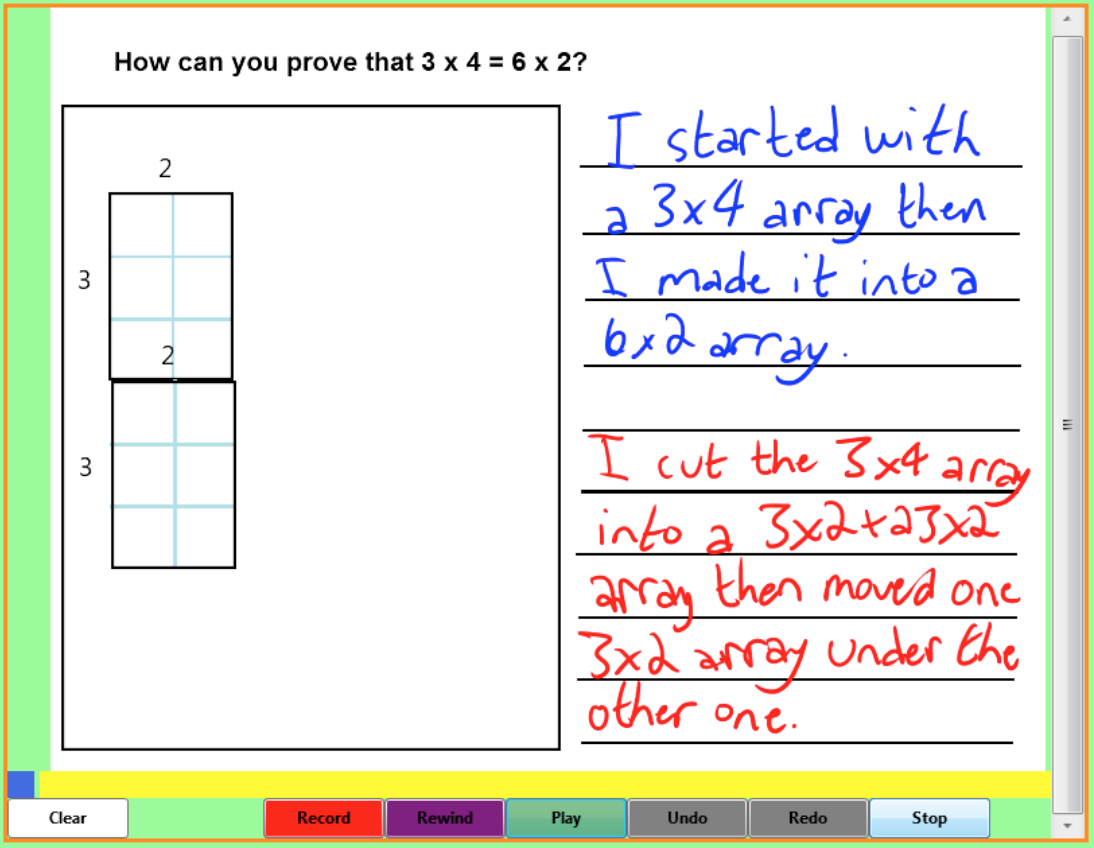 AL began with a 3 X 4 array, cut it into two 3 X 2 arrays and moved one of the smaller arrays under the other small array to create a 6 X 2. While she wrote her explanation after creating the animation, it is not officially part of the animation and thus stays on the page while the animation is playing.
Some students wanted to show the transformation in both directions, i.e. from 3 X 4 to 6 X 2 and from 6 X 2 to 3 X 4. Two examples of this approach are shown below. Figures 2a-c and Video 2 show DO's animation over three stages from beginning to end.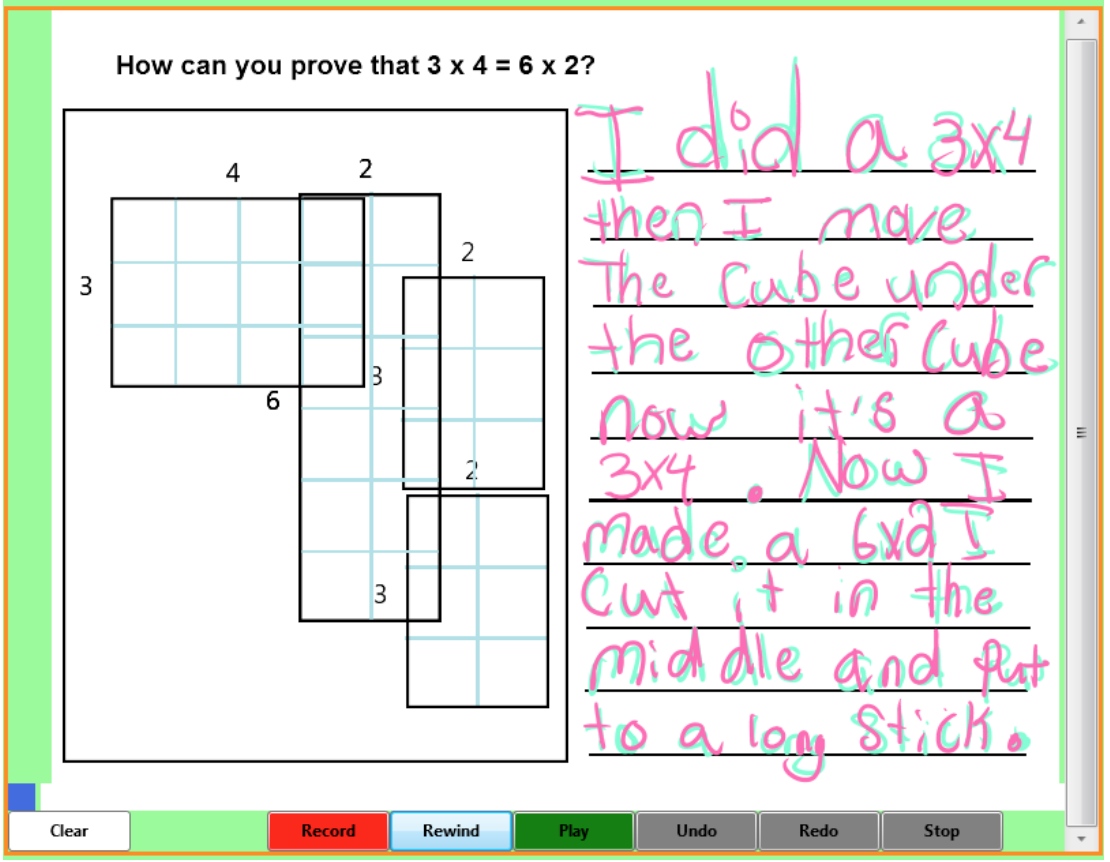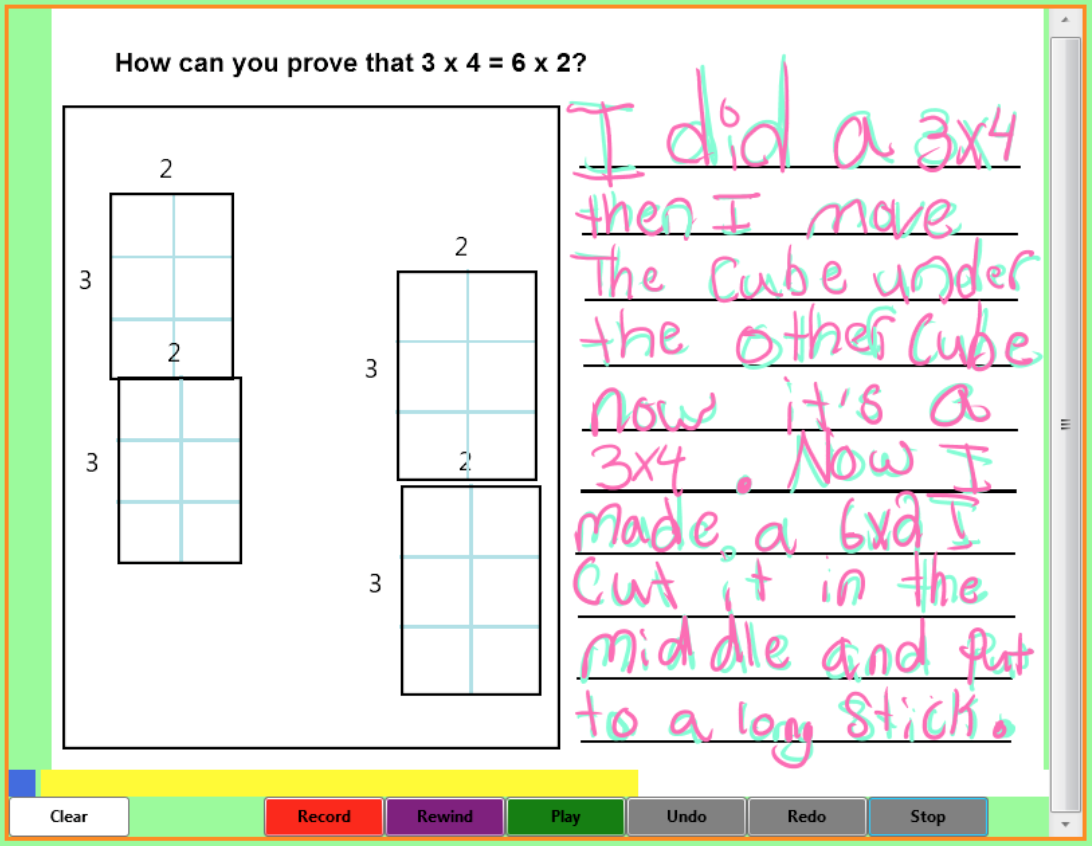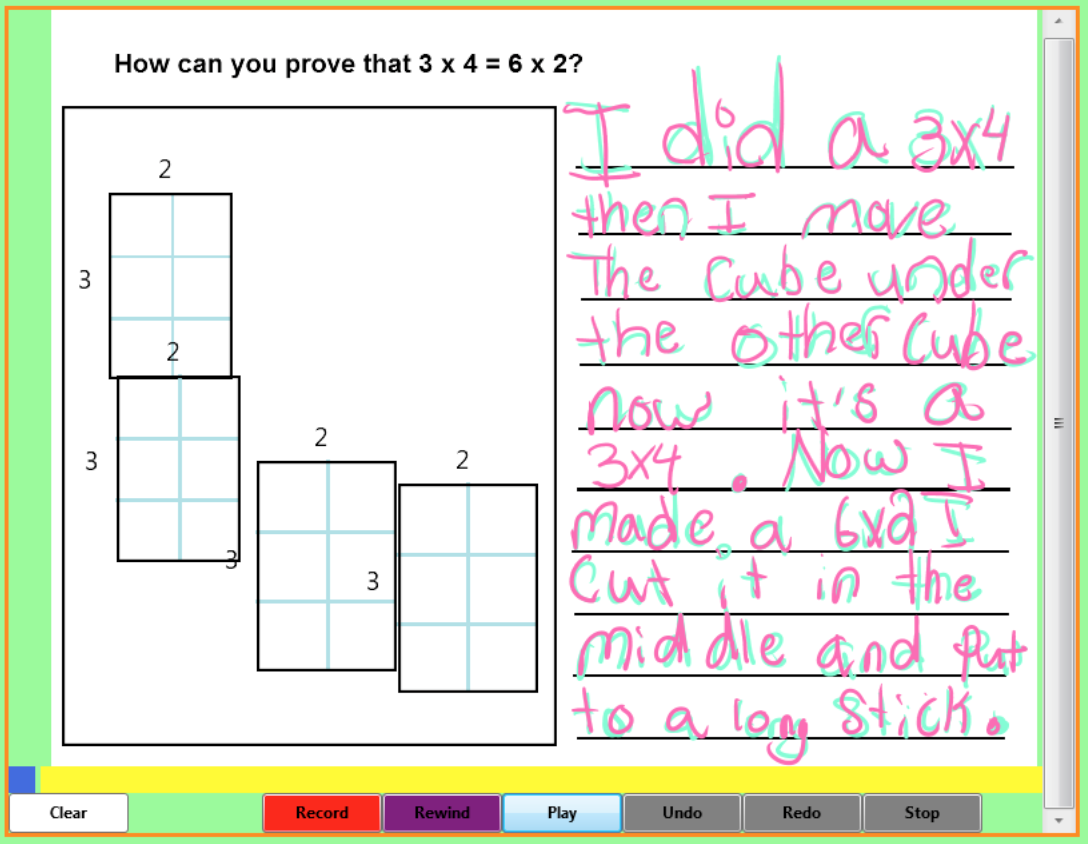 Note that before starting her recording, she created a 3 X 4 array, a 2 X 6 array and two 3 X 2 arrays. Her final screen shows just two arrangements: a 6 X 2 made up of two 3 X 2 arrays and a 3 X 4 made up of two 3 X 2 arrays. Her written explanation includes some vocabulary that had been developed specifically in her classroom (i.e. "stick" to mean arrays that are much longer than wide) but her oral explanation in class was quite clear.
RO went even further in his desire to show that the two arrays represented the same quantity, using color to distinguish the two different arrangements, as shown in Figure 3 and Video 3.
In this case, RO's final image is more informative than the manipulations he performed to create it. RO has outlined the 6 X 2 array in red and used red to write 6 X 2 in his animation area. He similarly used blue to outline the 3 X 4 array and write 3 X 4 in the animation area. Interestingly, in his written explanation, he reversed the use of color, using blue for 6 X 2 and red for 3 X 4. He is, however, consistent in his use of color within each area.
While few students actually wrote down a statement that "the quantity had not changed, just the arrangement of the arrays," the teacher led the class discussion in that direction and at least one student included the following in his work, "The arrays are different sizes but have equal numbers." (By "size," he means "shape.")
All but a few students were successful in creating animations to prove this equivalence. Several students went on to make up their own, similar problems, such as showing that 5 X 2 = 10 X 1 or 6 X 6 = 12 X 3.
Problem 2 What happens when you subtract 1 from one of the factors in a multiplication problem? Create an animation to show what happens.
While this problem was stated as a general question, we decided in consultation with the teacher to pose it about a particular multiplication problem to begin with; we used the problem 6 X 4. We planned to move to the more general problem statement if we had time, but we did not.
The key insight we hoped students would have in working on this problem is that subtracting 1 from one of the factors can be modeled by subtracting a row or a column from the array representing the original multiplication problem. Some students initially thought that they could model "subtracting 1 from a factor" by subtracting 1 from the product. In fact, for better or for worse, our software made this impossible, since using the scissors on an array automatically cut off some number of rows or columns. However, we observed at least one student (JA) trying – unsuccessfully -- to cut off a single unit (cell) from an array. Her eventual solution to the problem is shown in Figures 4a-c and Video 4, showing the beginning, middle and end of the animation she created.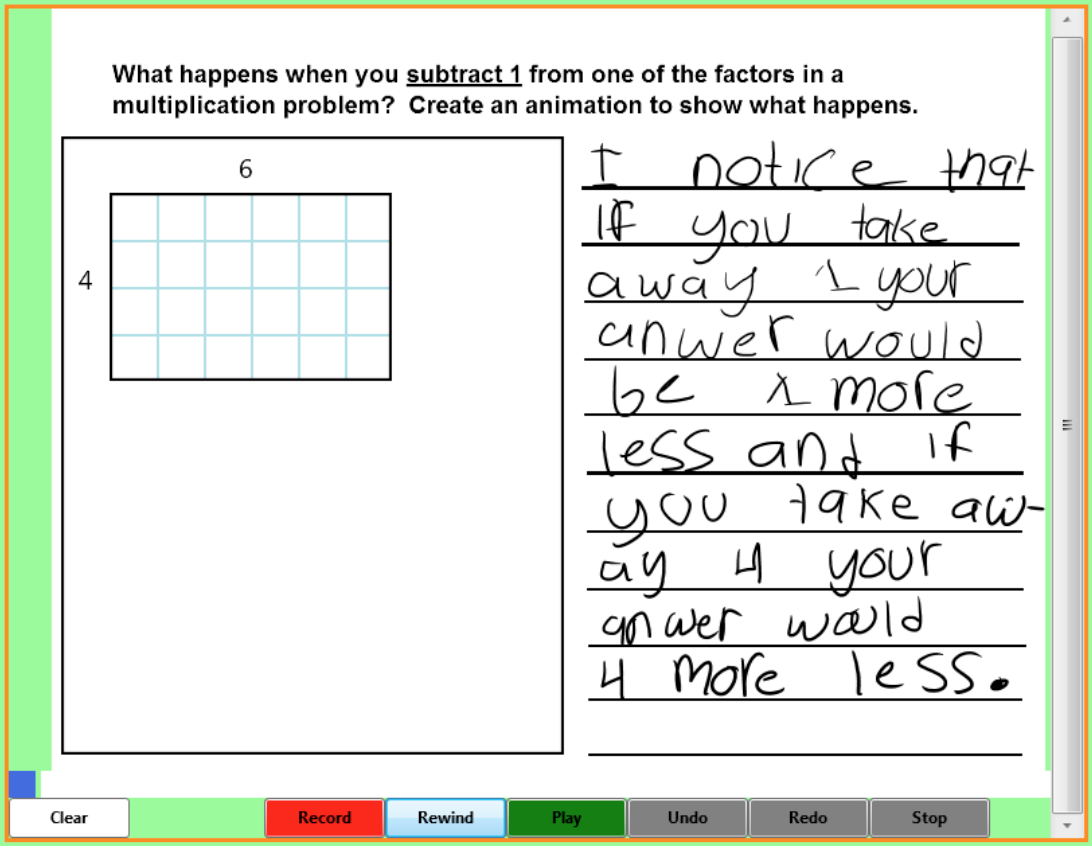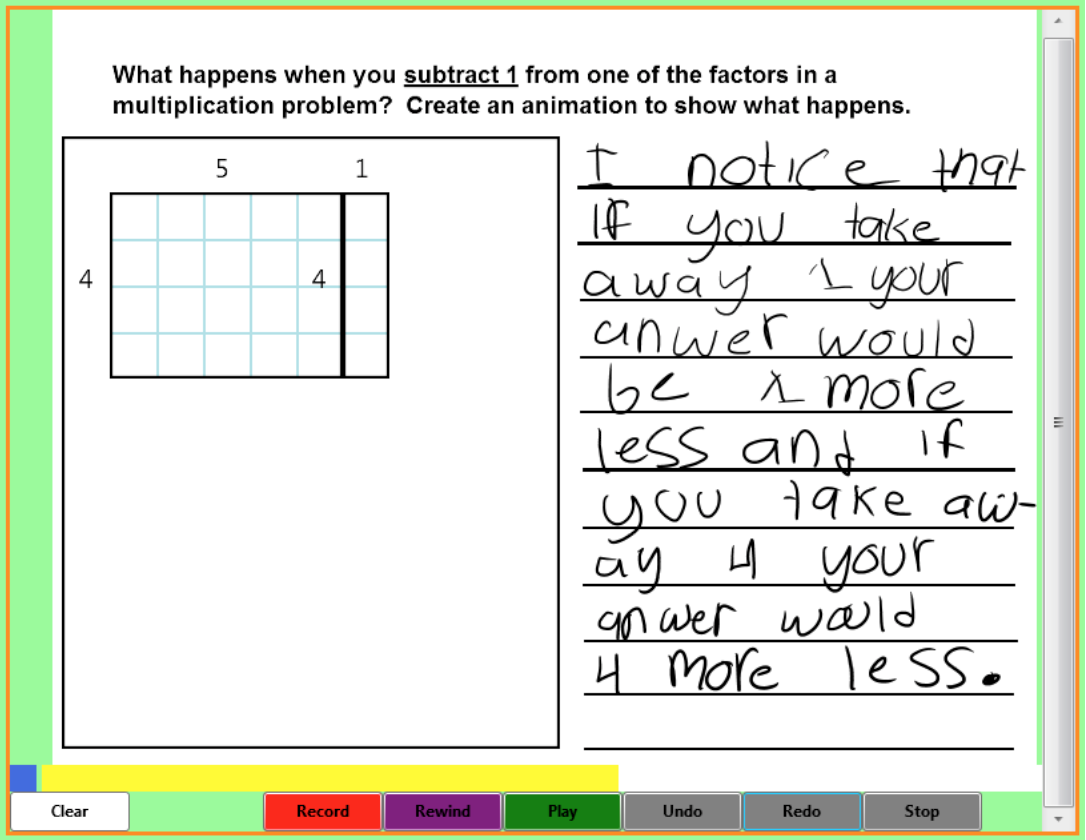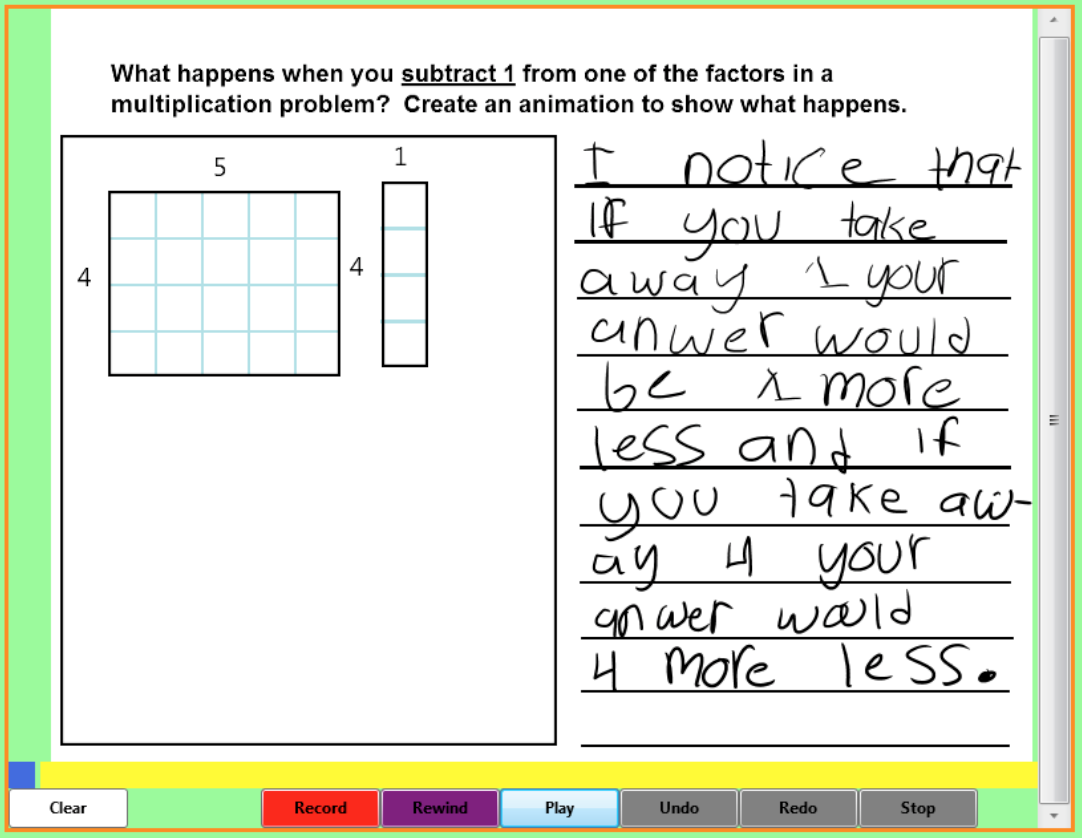 She cut off one column from the 6 X 4 array and moved it to the side. Her written explanation offers a window into her struggles: "I notice that if you take away 1 your answer would be 1 more less and if you take away 4 your answer would be 4 more less."
While many of the students created animations similar to JA's, cutting off and moving either a row or a column, several students saw an additional level of complexity in the problem and realized that they could subtract one from EITHER factor, ending up with two different array manipulations. ME, for example, created two 6 X 4 arrays, cut a row off one and a column off the other and wrote, "I started with 6 X 4. I cut one of sides of 6 X 4 and made it into a 5 X 4. When I cut the other one I took the top one and it made 6 X 3." His animation is illustrated in Figures 5a-c and Video 5.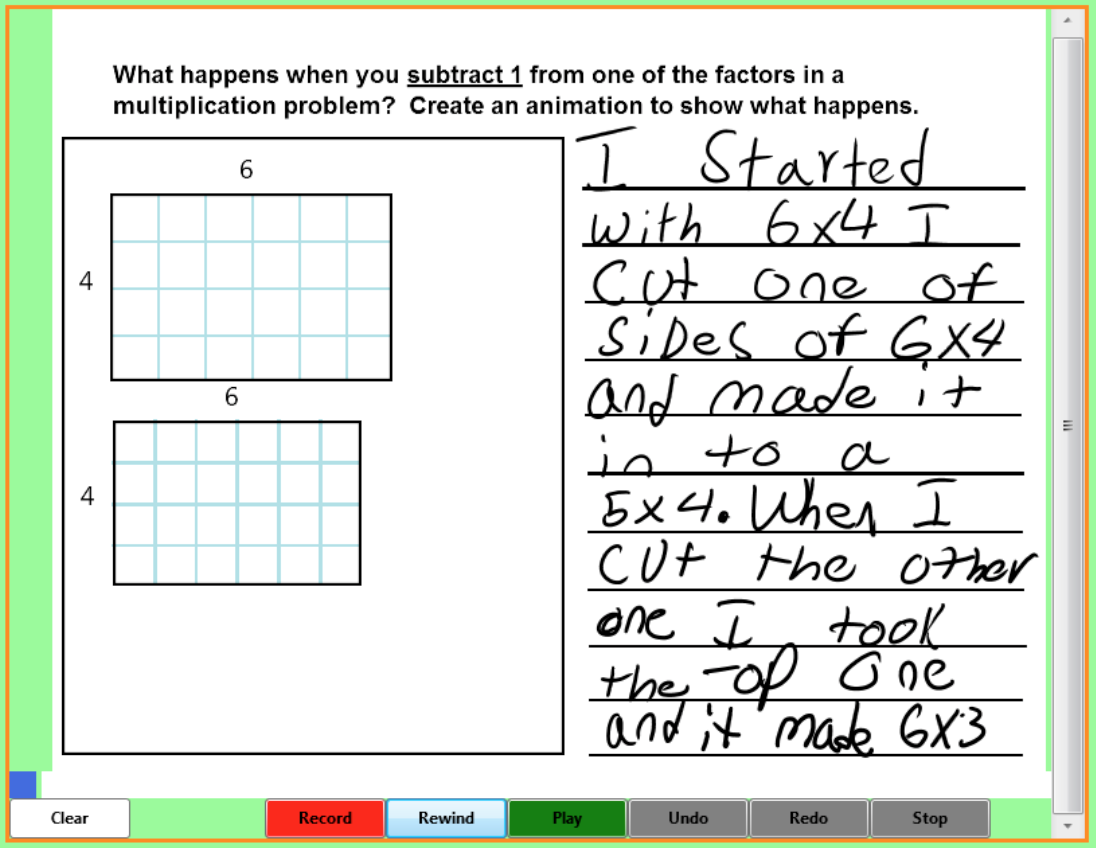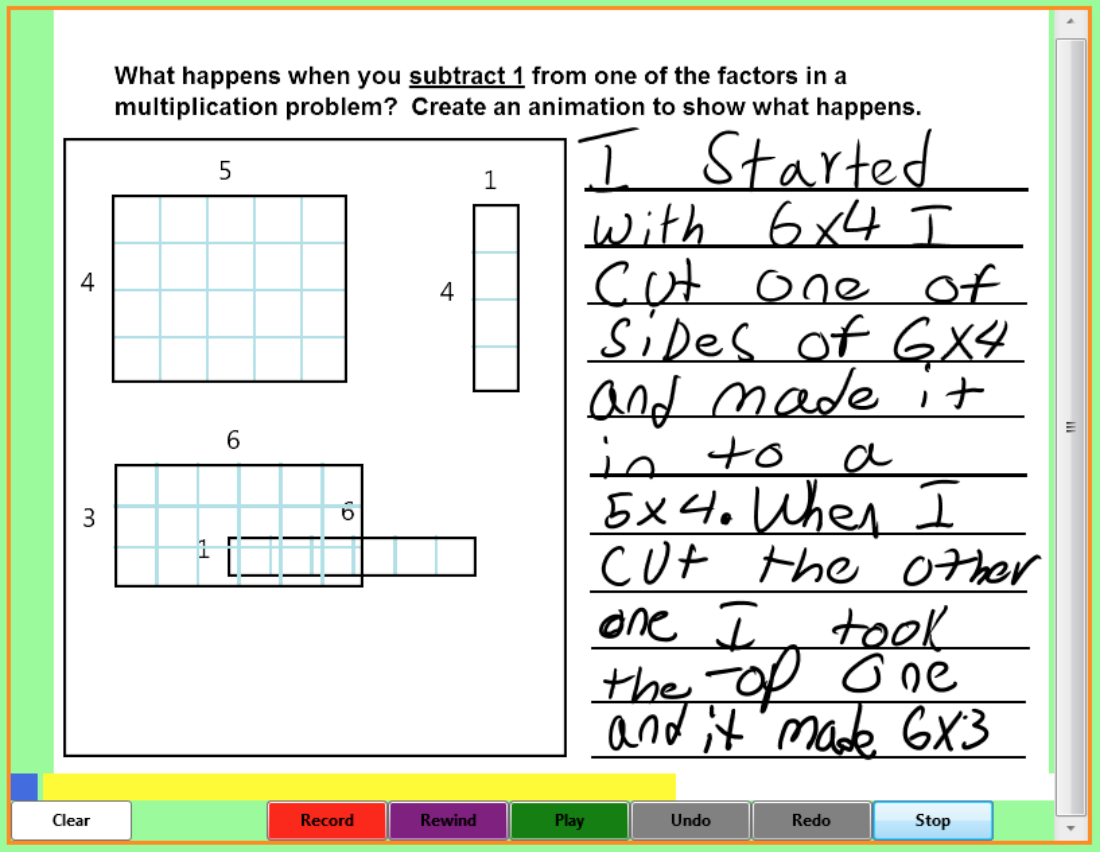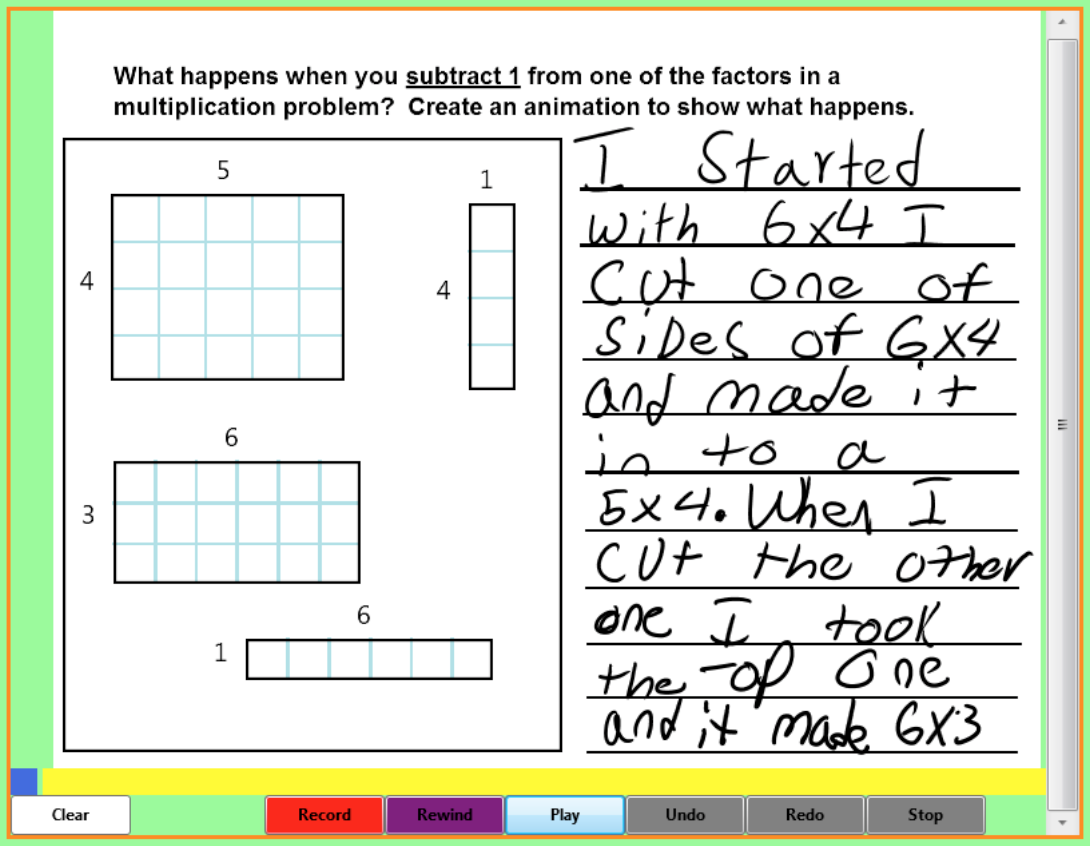 RO continued his use of color to illustrate his thinking, as shown in Figures 6a-c and Video 6, although the correspondence between ink color and the part of the problem it refers to is inconsistent.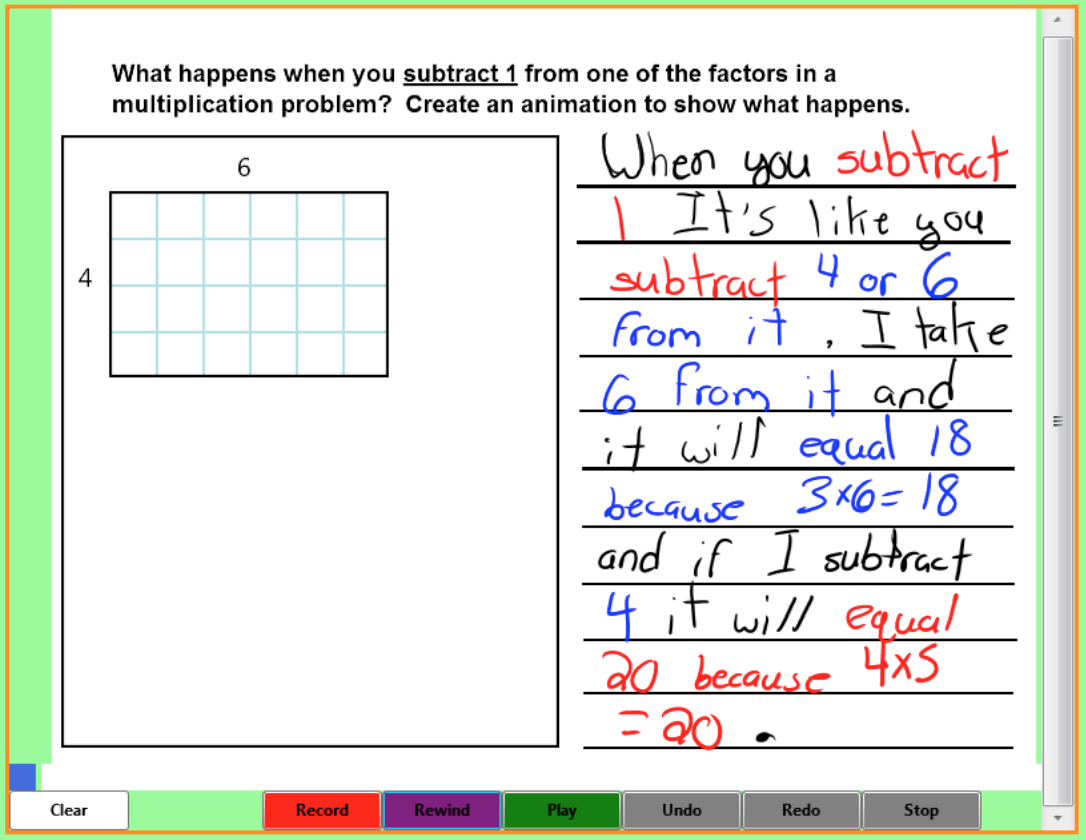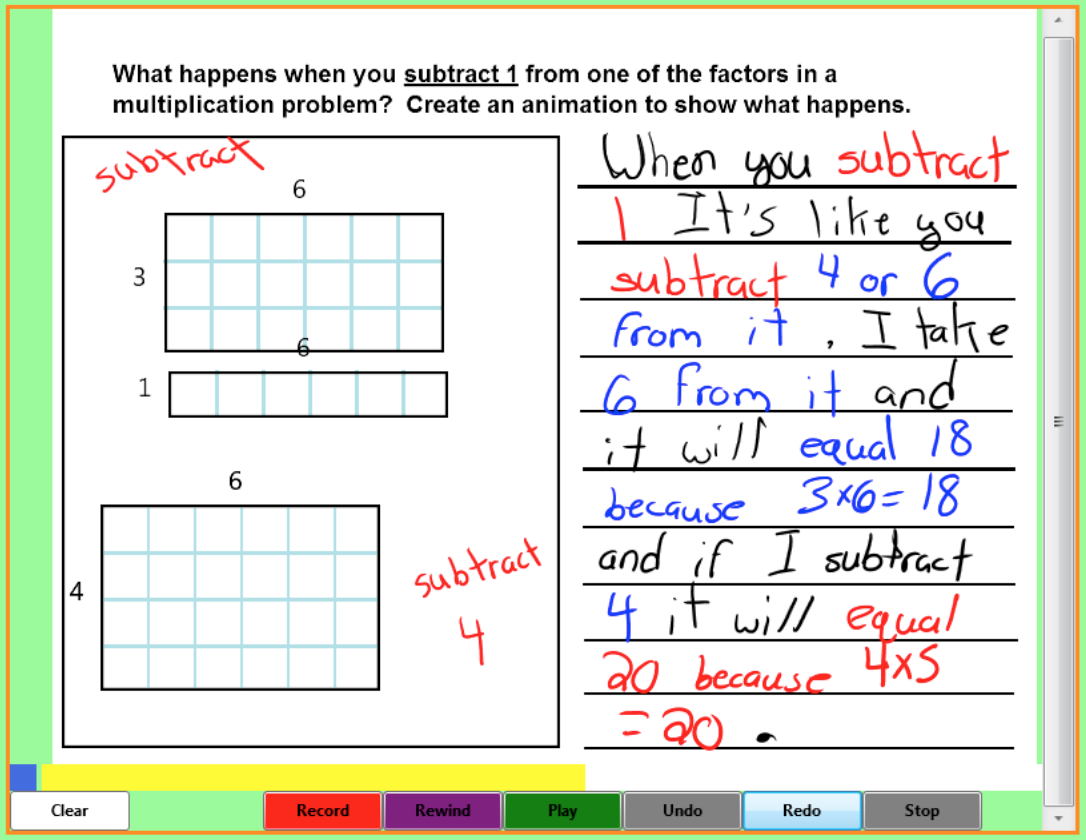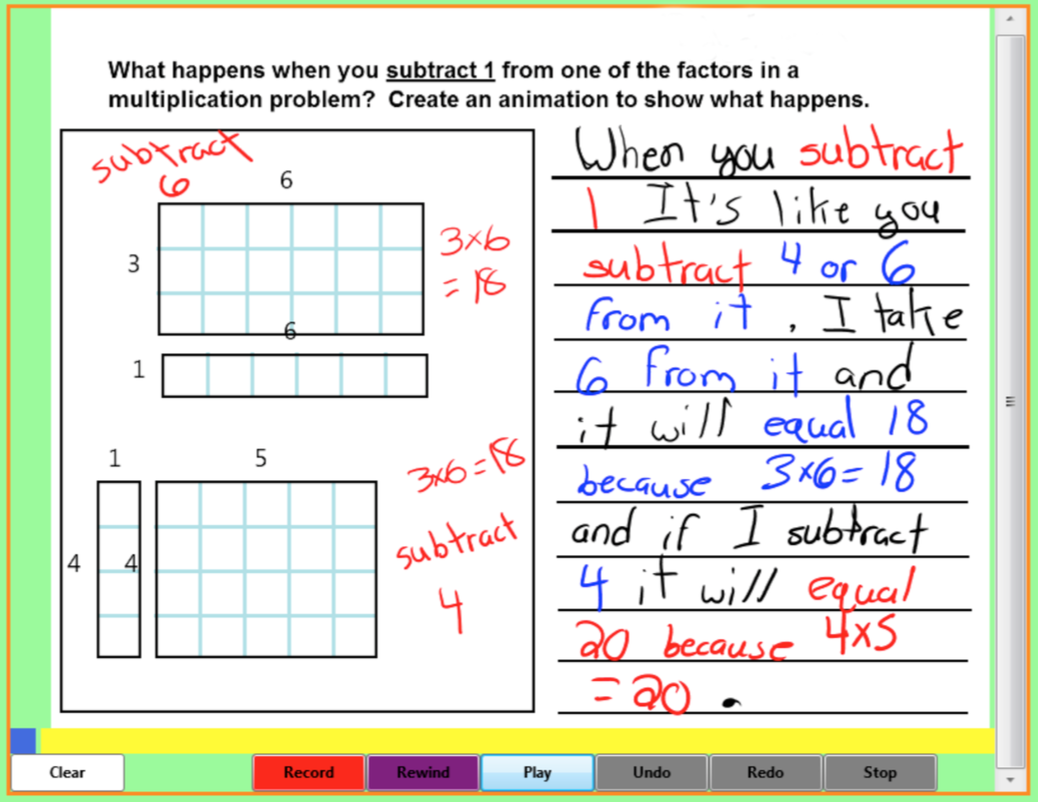 Like ME, he created two 6 X 4 arrays, cut a row from one and a column from the other. He took his thinking one step further, however, in noting what the final products were and how each differed from the original answer of 24. He wrote, "When you subtract 1 It's like you subtract 4 or 6 from it. I take 6 from it and it will equal 18 because 3 X 6 = 18 and if I subtract 4 it will equal 20 because 4 X 5 = 20." (His picture is actually mislabeled, but his text is correct.)
DE, whose work is shown in Figures 7a-c and Video 7, added a dramatic flair to his solution by cutting off a row, moving it away from the original array, then deleting it.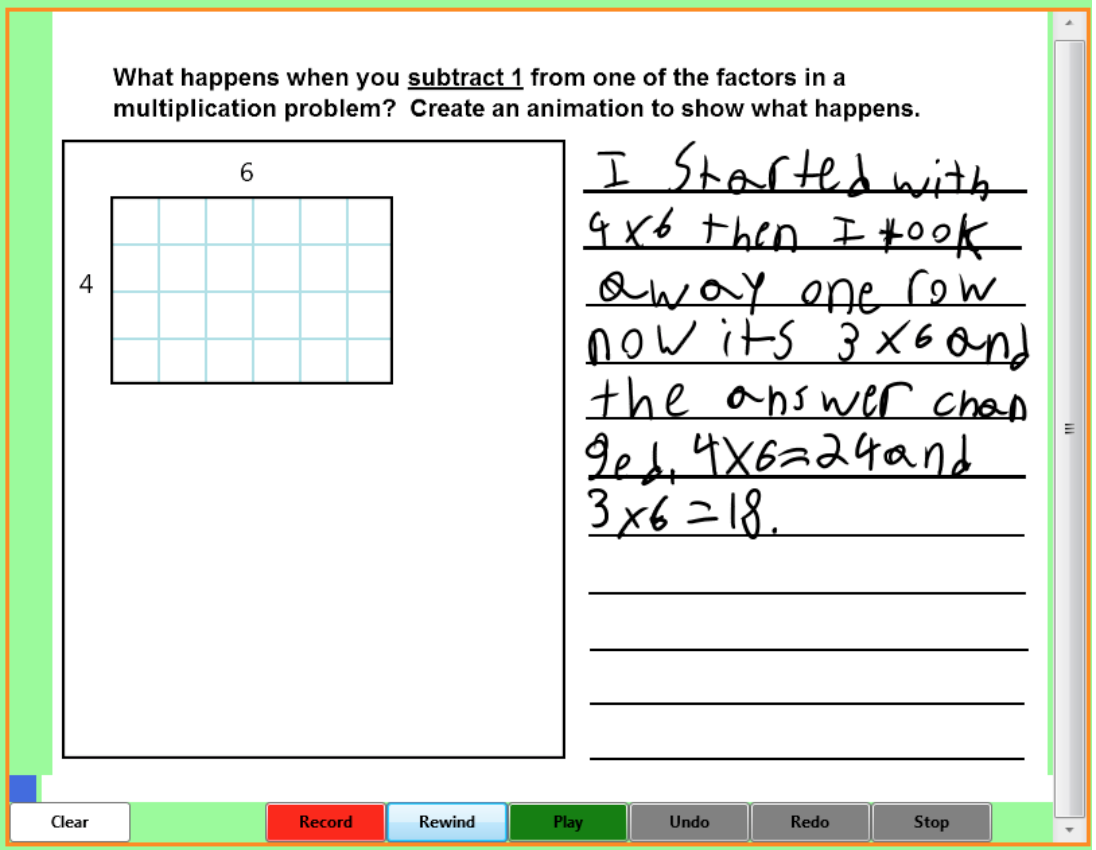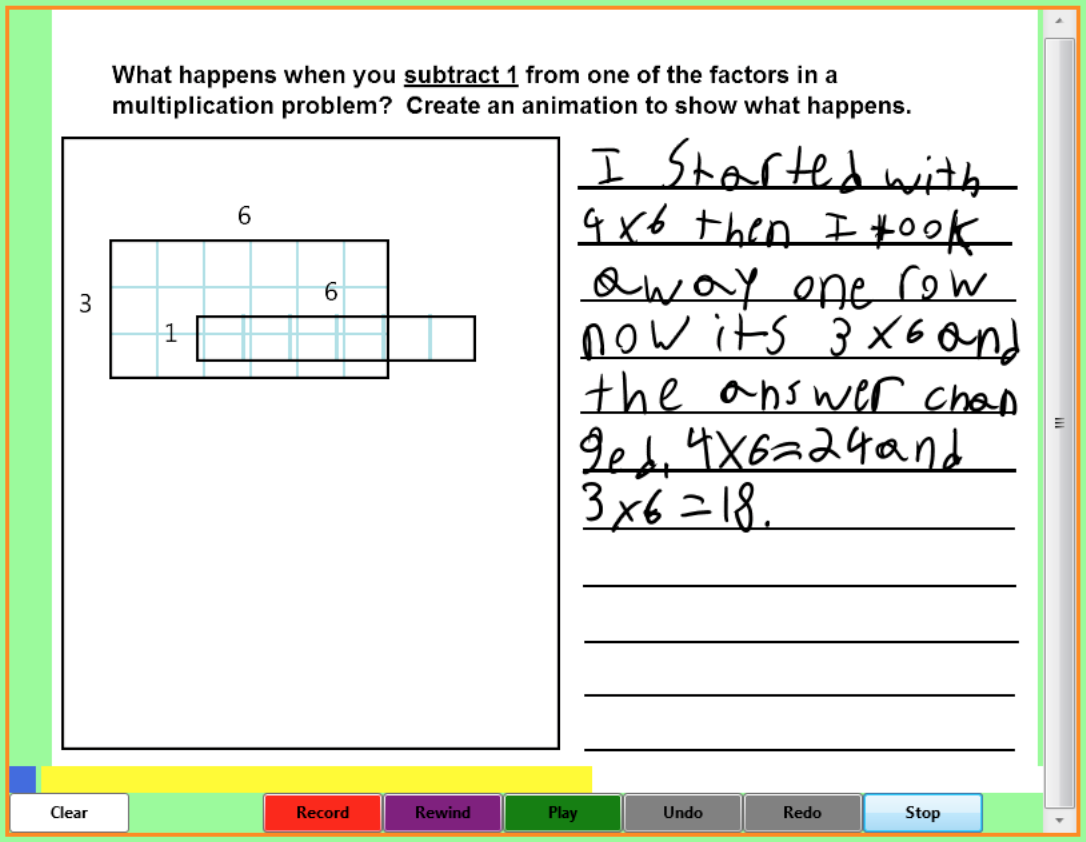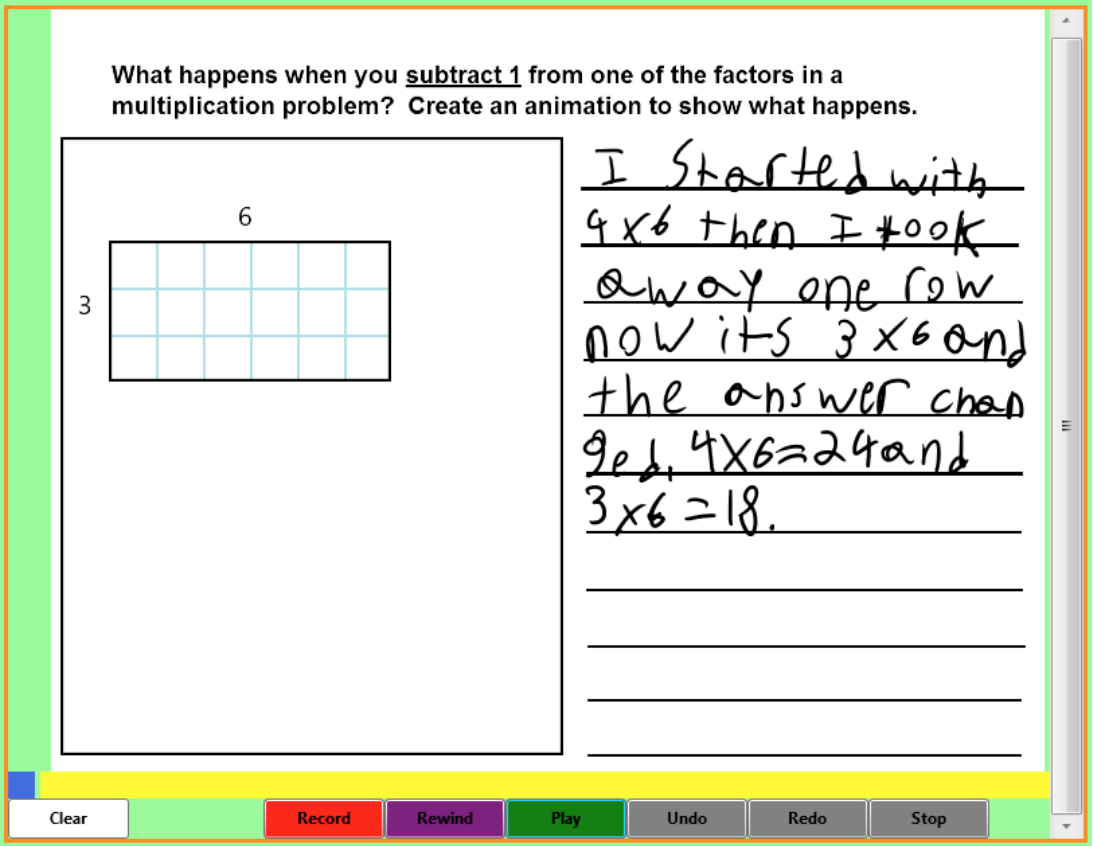 During the class, he was adamant that we display his work on the projector, so in the last few minutes of class, we did – and the disappearance of the cut-off row was greeted with appreciative laughter from the other students and the teacher.